PHONE
Call us 312.416.0622 to Register NOW!!
If we aren't available it is because we are with another student. Do leave us a message and we will get back to you ASAP.
24- Information Line: We also have an answering service where you can get answers to commonly asked questions and even sign-up for a trial lesson.
To reach the automated line call us at 800 374-8802
HOURS
Lessons hours are from 11:00 AM - 9 PM Monday through Friday and 9AM-5pm on Saturdays.
Office hours are 10:00-5:00 Monday through Friday.
Visitation to the school is by appointment only please.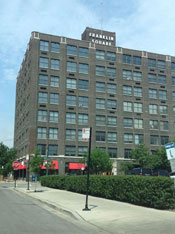 LOCATION
We are located at 900 N Franklin Ave in the River North/Near North neighborhood. We are on the 6th floor in suite 604. We are in the Franklin Square building which is easily identified with a sign baring it's name atop the building.
driving...
We are easily accessible off Lake Shore Drive and 90/94 both via the Chicago Ave exits. There is ample metered and unmetered parking directly outside the building.
public trans...
We are a 2 minute walk from the Brown/Purple line Chicago Ave stop.
EMAIL
You can email us at 24-hours a day at info@chicagoschoolofmusic.com
CONTACT FORM
If you'd like us to contact you, please fill out the contact form below along with your specific interest and/or questions as well as the best time to reach you. We will contact you at the earliest possibility.