a little bit about us:
• We are not the oldest or the newest school in the city and we are not a corporate franchise but we have been helping thousands of students reach their musical potential beginning in 1998 since our inception in Old Town. Read More about the history of the school.
• We offer lessons to students of all ages and sizes; some of whom have gone on to become professional performers and others who have gone off top university music programs.
• We have an inspirational facility with an on site recital space and all our lesson spaces are in large spacious rooms with windows.
• The teachers we hire are the absolute best and most highly qualified, but most importantly they don't take themselves too seriously and they keep the lessons fun.
• Our new location is very centrally located in River North very close to Walter Payton High School and the Brown Line Chicago Ave Stop.
• We have an Outreach Program and do offer lesson programs at various private and CPS schools throughout the city but our primary business is at our school in River North.
• We have a Comprehensive Private Lessons Program and offer private lessons on most instruments. Click Here to learn more!!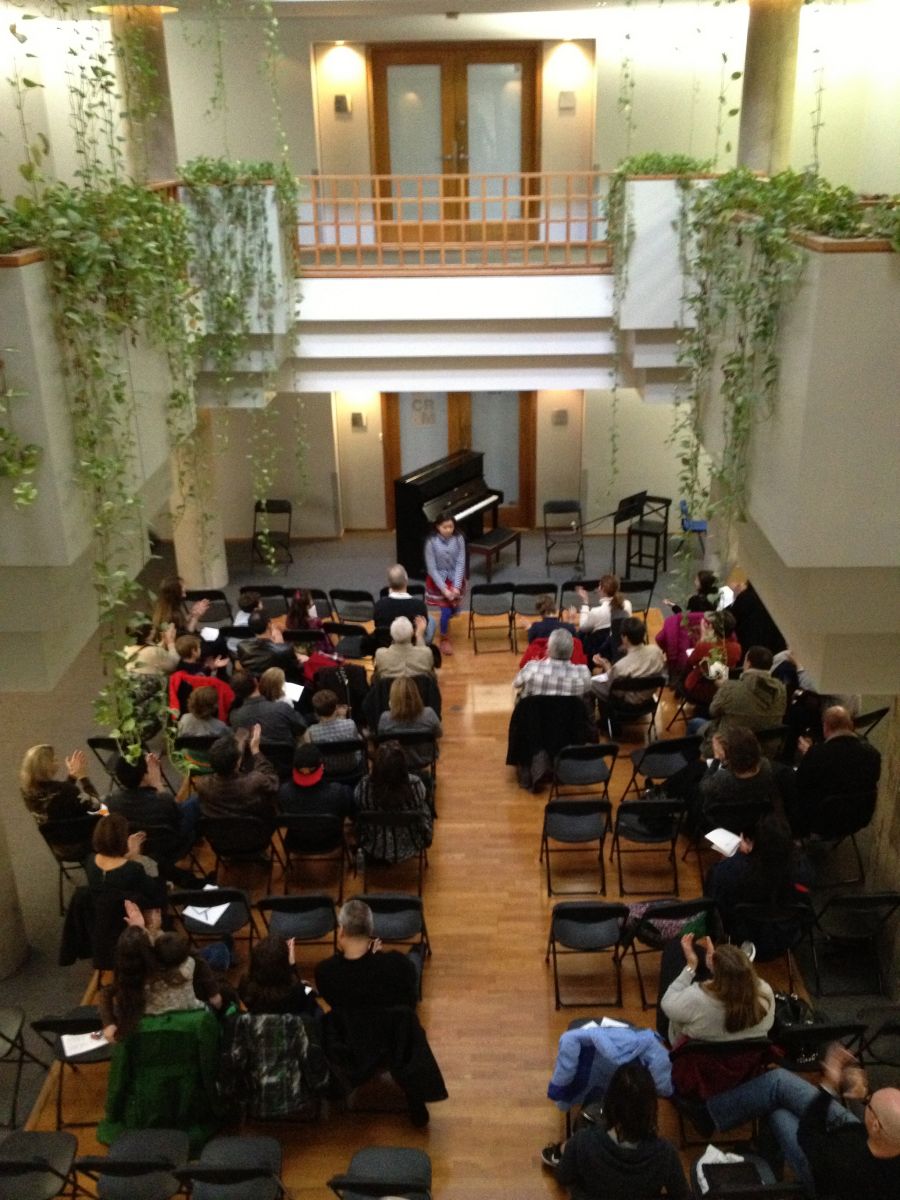 inspirational space...
We now have a brand new facility! All rooms are spacious with windows overlooking the River North/ Old Town neighborhood. We have a beautiful performance atrium for recitals and student/teacher showcases located right in our building. Lesson rooms are acoustically designed and are spacious with windows and tall ceilings in a concrete building. We also have a spacious lobby and place for students to do homework or just hang before their lesson.
convenient location
We have recently relocated to a convenient location in River North. Parking is very convenient with ample street parking. We are very accessible off the brown and red lines (Chicago Stop). We are right between River North and Old Town making us very centrally located. We are within walking distance to book stores, Star Bucks, Walgreens, a local yoga studio, and several cafes and restaurants including the renowned Kiki's Bistro. We are also near Walter Payton High School.
motivational teachers
We have great teachers who are professionally trained and accomplished as well as supportive and nurturing mentors for students of all ages. Our teachers construct lesson plans based on student interests and learning styles.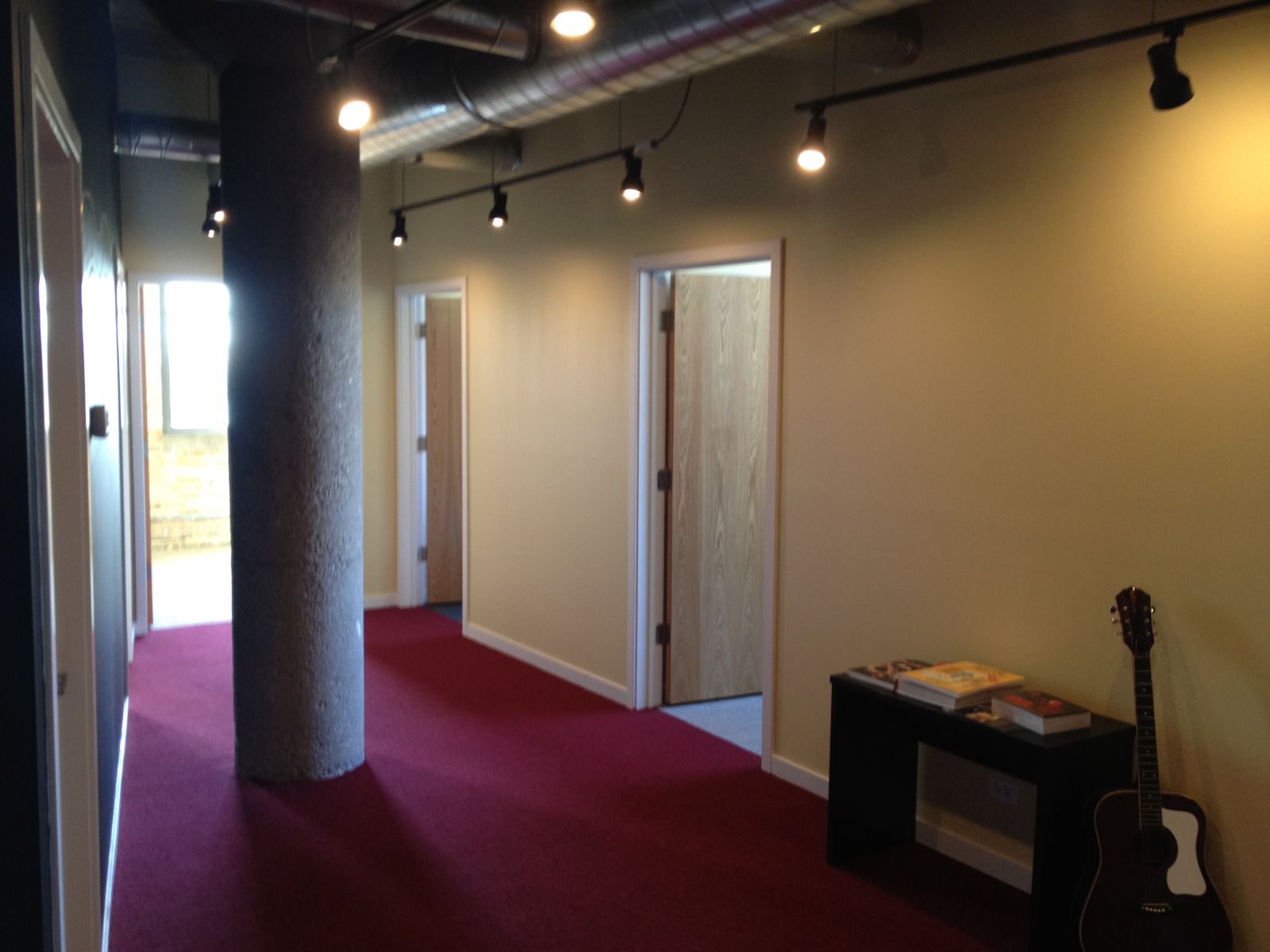 diversity of style
Our teachers have a wide gamut of styles from which they can teach and we have a wide range of teachers from different stylistic backgrounds. We hire a wide range of teachers to provide students an option should they want to study in a particular genre.
professional students and professional amateurs
We have many professional students who have gone on to achieve major professional accomplishments as well as get acceptance into collegiate programs. We also have had many working professionals who just choose to do pursue music as a hobby. Take your pick!

The word amateur may have negative connotations in today's society but the origin is French and comes from the Latin word amateur- which means to love. It is quite amazing the high level of musicians out there who have 'day jobs'. Too many adults carry around the feeling of 'I used to play when I was a child and I've always thought about playing again'. It's never too late. Start today!
practice program
Our teachers are already adept in motivating students to practice, which is the age-old problem. Additionally, this year we are beginning a new program that we are very excited about.
testimonials
Having offered music lessons to the public for since 1998, we have helped thousands of students of all ages reach their musical potential. Read more about what our students say about it in their own words.
the benefits of music
The popularity and myth that music somehow makes you smarter is known as the Mozart Effect, which is also a book, authored by Don Campbell. Students who study musical instruments learn the self-discipline of time management and that alone is a valuable tool in everyday life. There is not enough that can be said about the lack of art/music in our school programs. Music and artistic appreciation is the cultural backbone of any modern society and that enrichment is now lacking in our education system. Shouldn't children today know who Mozart & the Beatles were?
performances
We have a gorgeous performance atrium for student recitals and showcases right in our building and we offer several opportunities throughout the semester for students to perform in recitals. The opportunity to perform and express oneself musically is a meaningful part of the music education process. It means something different to everyone. For some, music is a gift that is meant to be shared and for others it is an opportunity to master self-confidence in the public speaking forum. It is quite amazing how different one's performance of a piece is when it is performed.
What are you looking for in a music school? We want to hear from you!