Bethany McKnight is a native of Michigan, where she spent six years teaching student of all ages at the Crescendo Academy of Music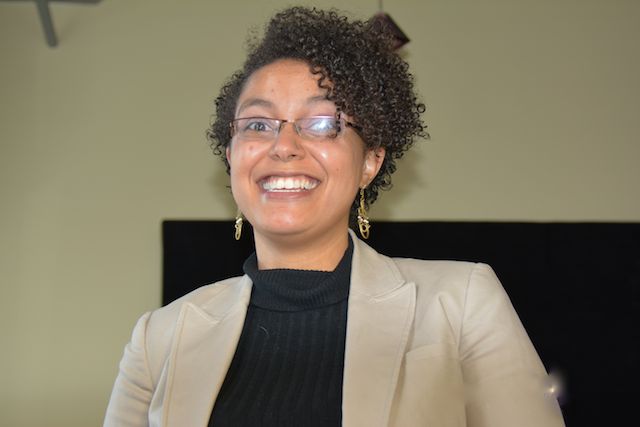 in Kalamazoo before her recent move to Chicago in 2013. Bethany is a passionate and dedicated music educator who enjoys working with students of all ages ang abilities. In addition to private teaching and mentoring, Bethany also spent five years teaching group piano for the Irving S. Gilmore International Keyboard Festival's piano lab program where she gained the experience of working with students with a wide range of ages and abiliites. While her primary emphais is on classical music, she has been integrating her research on music from non-Western cultures into her teaching and playing. Bethany is a graduate of Western Michigan University and Michigan State University where she earned a Master of Music in Piano Pedagogy.

Laura Hoffman is the author of several blues and jazz books for both kids and adults. She has most recently published
The Blues Cookbook
for intermediate pianists, taking those new to blues through various styles with the help of a CD full of accompaniments and examples by Ms. Hoffman. Featured in Today's Chicago Woman as one of the Fifty Women of the Year for her work in music, she has taught at the CSOM since it's inception and remains in high demand as both a teacher and performer. Splitting her time between Chicago and New York City, Ms. Hoffman has worked with such musical artists as Alan Swain, Skip Green, Jack Hubal, Willie Pickens, Duke Ellington, Stan Kenton, Bob Hope, Marilyn McCoo, Al Hirt, Redd Foxx, Liza Minelli, and Lou Washington. A regular in the jazz and blues scene in Chicago, she has performed with jazz trios and quartets all over the greater Chicago area, music-directed several Chicago broadway shows, and worked as a mentor through the Ravinia Festival's outreach program. Ms. Hoffman studies Feng Shui and Yoga in her free time and believes in the creative potential of all individuals. Laura has been teaching at the Chicago School of Music since 1999.
Marc Piane | Acoustic / Electric Bass, Drums, and Electronic Music

Marc is an experienced jazz performer and plays frequently throughout Chicago with Q-Blue, ESP, Lori McClain and many others. He co-founded and co-directs the Summer Lab On Stage program at the University of Chicago Laboratory Schools. He spends his free time going the park with his two kids and riding his bike. His love of jazz and black coffee runs deep, consequently he rarely sleeps. Piane has been teaching at Chicago School of Music since it's inception since 1998. For more info about Marc check out
www.marcpiane.com
.


Carly Stein | Voice



Carolyn Jeanette Stein hails from the suburbs of Chicago where at a young age she sang for Mstislav Rostropovich at a Chicago Gala in his honor. More recently, Ms. Stein created the title role in the U.S. Premiere of Silla by G.F. Handel and was a Pine Mountain Music Festival Resident Artist. Ms. Stein has sung with the Boston Lyric Opera, Opera Boston, Chicago Opera Theater and Ravinia Steans Music Institute. Carolyn holds a Master of Music degree in Vocal Performance from the New England Conservatory, where she was awarded the Helen Haxton Stare Presidential Scholarship. While attending NEC, Ms. Stein studied with Luretta Bybee, was featured in a masterclass with Renée Fleming, and played the roles of Clori (L'Egisto), Dorothée (Cendrillon) and Rosa Gonzales (Summer and Smoke). Prior to her work at NEC, Carolyn studied at the Manhattan School of Music and the Salzburg Mozarteum. Carolyn attended the Chautauqua Institution under the direction of Marlena Malas, singing the roles of Mother Goose (Rake's Progress) and Annina (La Traviata). In addition to her classical roles, Carolyn was a member of the American Musical Theater Ensemble in New York under the direction of Carolyn Marlow. Carolyn's upcoming engagements include Chicago Opera Theater Young Artist and Chicago Lyric Opera Chorus.
Teaching Philosophy
Learning how to sing is about personal development and individual progress. I am a big proponent of maintaining physical health and proper singing technique which is juxtaposed with the focus on the emotional nature of music. These two ideas are crucial for any developing singer.

It is important for me to develop trust with all of my students as we work towards the discovery of their fach. I never like to push my students beyond their natural ability and prefer to work towards singing goals in a healthy manner. Being confident in knowledge of vocal pedagogy (anatomy, physiology, and acoustics) is important to any singer and allows students to work towards a proficient vocal methodology. As students' technique becomes stronger, it is my role to help them connect emotionally to the music as communicating powerful messages is the mark of a fine singer.

In my studio, I believe that each student is unique and will require an individual path towards common voice goals. One of my strengths is my ability to communicate and teach vocal technique. Having more than 17 years of vocal pedagogy education, I have achieved a high proficiency and developed methods to explain these techniques to all of my students.

As a student
I grew up in Northbrook, IL. Growing up, music lessons was a magical privilege that I got to take part in once a week. My father and my teacher exposed me to music from all over the world, in languages that were completely foreign to me and this is what sparked my interest in classical music. When I started lessons, I began singing lyrical musical theater. My teacher was diligent and instructed me that the most important thing to learn first was proper vocal pedagogy. As I became more solid in my technique, we moved onto art song and arias. Of course - we did have fun to!
Other Activities
More than anything, I like to bake. There's something special to me about taking the chaos of different ingredients and putting them together to make something delicious.